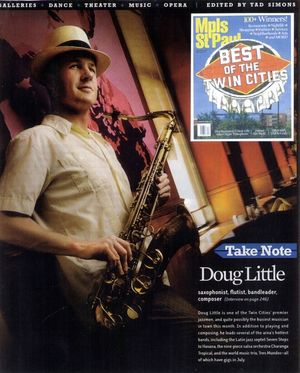 Mpls/St. Paul Magazine
Take Note

"Doug Little is one of the Twin Cities'
premier jazzmen..."


     Doug Little is one of the Twin Cities' premier jazzmen, and quite possibly the busiest musician in town this month. In addition to playing and composing, he leads several of the area's hottest bands, including the Latin jazz septet

Seven Steps to Havana

, the nine-piece salsa orchestra

Charanga Tropical

, and the world music trio Tres Mundos-all of which have gigs in July. 
-Tad Simons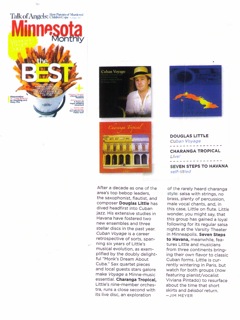 Minnesota Monthly
CD Reviews
"One of the area's top bebop leaders...
three stellar discs."

      After a decade as one of the area's top bebop leaders, the saxophonist, flautist, and composer Douglas Little has dived headfirst into Cuban jazz. His extensive studies in Havana have fostered two new ensembles and three stellar discs in the past year. Cuban Voyage is a career retrospective of sorts, spanning six years of Little's musical evolution, as exemplified by the doubly delightful "Monk's Dream About Cuba." Sax quartet pieces and local guests stars galore make Voyage a Minne-music essential.
Charanga Tropical

, Little's nine-member orchestra, runs a close second with its live disc, an exploration of the rarely heard charanga style: salsa with strings, no brass, plenty of percussion, male vocal chants, and, in this case, Little on flute. Little wonder, you might say, that this group has gained a loyal following for its regular salsa nights at the Varsity Theater in Minneapolis.
Seven Steps to Havana
, meanwhile, features Little and musicians from three continents bringing their own flavor to classic Cuban forms. Little is currently wintering in Paris, but watch for both groups (now featuring pianist/vocalist Viviana Pintado) to resurface about the time that short skirts and béisbol return.  -Jim Meyer
Star Tribune
CD Review
"The Phoenix"
"Introspective, lyrical... a program that's always cohesive and organic-sounding."
The new album by Minnesota alto sax favorite Little (Motion Poets, Seven Steps to Havana, Ticket to Brasil) co-stars an inventive, imposing Italian pianist who has become a part-time resident of the Land of Lakes, along with mighty drummer Kevin Washington and ace bassist Jeff Bailey from Moveable Feast. Everyone gets to shine on a program that's always cohesive and organic-sounding, even though it ranges over lots of disparate stylistic turf.
"The Phoenix" offers a rollicking Brazilian dance, a seductive tribute by Aula to Italian film composer Nino Rota, an original tango, plus 21st-century bop and hip blues. Washington's haunting "Compassion," melodically reminiscent of Abdullah Ibrahim's work, was previously a standout track on Moveable Feast's "Directions" CD. Little adds six of his compositions, which are happily just as diverse.
The title track is a post-Coltrane showstopper, building in intensity, with Aula's piano solo rumbling fitfully, eventually rising triumphant, indeed like a bird headed for the heavens. At the opposite end of the dynamic spectrum, "Tainted Tango" is moody, hushed and understated, although no less deeply felt, as Little proves just as eloquent with his other reed instrument, the bass clarinet.
"Sigh Over Cy" ends the satisfying CD on an introspective, lyrical, perhaps elegiac note. Studio wiz Matthew Zimmerman, who did triple duty- engineering, mixing and mastering- captures every nuance beautifully.
-Tom Surowicz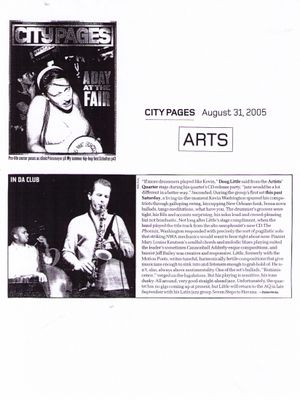 City Pages
In Da Club
"His playing is sensitive, his tone dusky. All around, very good straight-ahead jazz."


      "If more drummers played like Kevin," Doug little said from the Artists' Quarter stage during his quartet's CD-release party, "jazz would be a lot different in a better way." Seconded. During the group's first set this past Saturday, a living-in-the-moment Kevin Washington spurred his compatriots through galloping swing, hiccupping New Orleans funk, bossa nova ballads, tango meditations, what have you. The drummer's grooves were tight, his fills and accents surprising, his solos loud and crowd-pleasing but not bombastic. Not long after Little's stage compliment, when the band played the title track from the alto saxophonist's new CD The Phoenix, Washington responded with precisely the sort of pugilistic solo that striking NWA mechanics would want to hear right about now. Pianist Mary Louise Knutson's soulful chords and melodic bules playing suited the leader's sometimes Cannonalball Adderly-esque compositions, and bassist Jeff Bailey was creative and responsive. Little, formerly with Motion Poets, writes tuneful, harmonically fertile compositions that give musicians enough to sink into and listeners enough to grab hold of. He isn't, alas, always above sentimentality. One of the set's ballads, "Reminiscene," verged on the lugubrious. But his playing is sensitive, his tone dusky. All around, very good straight-ahead jazz. Unfortunately, the quartet has no gigs coming up at present, but Little will return to the AQ in late September with his Latin jazz group

Seven Steps to Havana

. -Dylan Hicks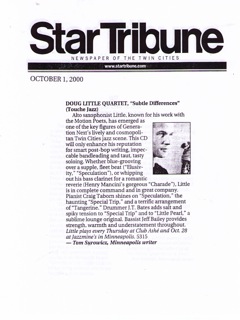 Star Tribune
CDs "Subtle Differences"
"Smart post-bop writing, impeccable bandleading and taut, tasy soling... Little is in complete command and in great company"
Alto saxophonist Little, known for his work with the Motion Poets, has emerged as one of the key figures of Generation Next's lively and cosmopolitan Twin Cities jazz scene. This CD will only enhance his reputation for smart post-bop writing, impeccable bandleading and taut, tasy soling. Whether blue-grooving over a supple fleet beat ("Elusivity," "Speculation"), or whipping out his bass clarinet for a romantic reverie (Henry Mancini's gorgeous "Charade"), Little is in complete command and in great company. Pianist Craig Tablorn shines on "Speculation," the haunting "Special Trip," and a terrific arrangement of "Tangerine." Drummer J.T. Bates adds salt and spiky tension to "Special Trip" and to "Little Pearl," a sublime lounge original. Bassist Jeff Bailey provides strength, warmth and understatement throughout. -Tom Surowicz